Virtual Reality and Drone Technologies Advance the Design Process
From Press Release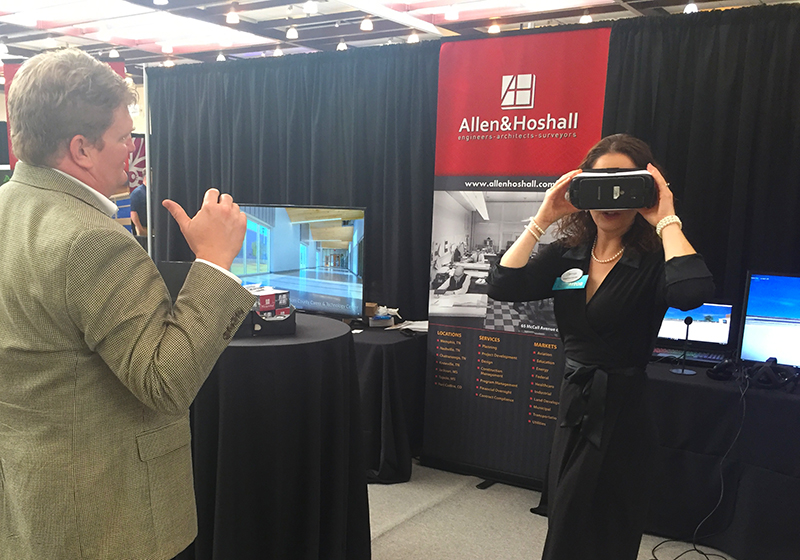 Allen & Hoshall is progressing the world of architecture and engineering with the integration of new technologies.  The advancement of VR headsets, like the Oculus Rift, and drone models has enabled the firm to incorporate these new tools to accelerate the design process and visualize large projects from a more realistic perspective.
Virtual Reality
As firm vice president Robert Cochran, PE discussed with ABC News Channel 9 in Chattanooga, Allen & Hoshall is one of the first firms in all of Tennessee to adopt virtual reality early in the design process for projects such as schools, industrial complexes, and transportation projects. The technology gives users an accurate representation of what the size and orientation of a space feels like.  Our models, with the use of VR headsets, allow our clients to not only step into the design, but also travel throughout the facility or project site to fully understand how each piece fits together.
"These tools provide clients the experience of a facility before completion," Cochran said. "By including them at the beginning, we can make sure our design remains aligned with their initial vision by bringing abstract ideas to reality. Demonstrating our concept through virtual reality can save time from the back and forth communication during design and potential change orders during construction."
Drone Footage
Drones are already a useful tool in the industry for aerial mapping but what else are they capable of?  The firm is currently using drone cameras to assist with developing topographic surveys and civil engineering design but when paired with our 3D models, we are able to incorporate large environments for transportation and land development projects.  "The new high-quality photos and videos captured by today's drones allow our design team to see details from an aerial perspective that Google Earth can't capture," Ayers said.  The result is a cohesive design that minimizes conflicts and/or delays during construction.
By utilizing infrared cameras, our electric utility department is cable of detecting bad connections on transmission lines or substations.  These capabilities enable our clients to deliver reliable electrical power and other utility services. Jason Ayers, Utility Designer at Allen & Hoshall, recently received his commercial license to fly a drone and uses the technology regularly.
Drone video also helps with special projects such as inspecting streams and wetlands, as well as assessing conditions for structures such as bridges where physically walking or climbing through can be difficult or even dangerous.